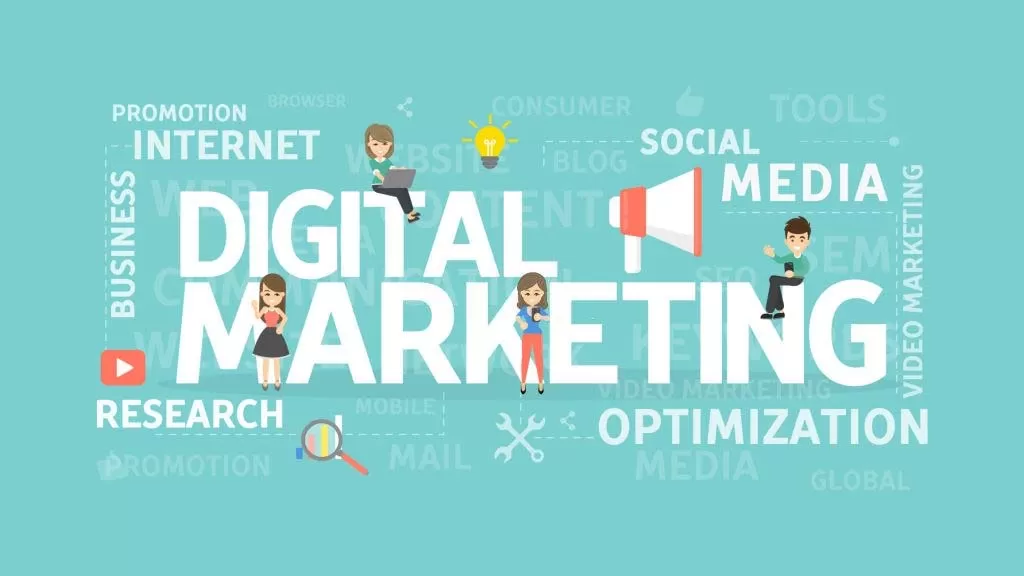 5 Simple steps of Successful Digital Marketing
Digital Marketing is a way to promote brands and products online and through other digital channels. Most businesses have a specific audience they are trying to reach, and digital marketing aims to help businesses reach these target consumers through the internet and other digital avenues.
There are different digital technologies that marketers and companies use to get their marketing message to their target audience. In addition to their website, a company might also use PPC and display ads, email marketing, mobile technology like smartphones, social media, and other mediums to attract and engage their target. We've defined the strategy of successful digital marketing into 5 simple steps.
Search Engine Optimization (SEO)
Search Engine Optimization (SEO) is the art and science of driving targeted traffic to your website from search engines. It is the process of optimizing your website to get organic, or unpaid, traffic from the search engine results. In other words, SEO involves making certain changes to your website design and content that make your site more attractive to a search engine. You do this in hopes that the search engine will display your website as a top result on the search engine results page.
If you have a website and you want to get more traffic, it should be part of your marketing efforts. Here, I'll explain what SEO is and how we approach it.
Google's Algorithm: The rankings of these search results are determined by Google's algorithm. Although Google's algorithm remains secret, years of experience in SEO have resulted in a pretty good idea about the important factors. In our view, the factors in Google's algorithm can be divided into two categories:
On-page SEO Factors: The ranking of your website is partly decided by on-page factors. On-page SEO factors are all those things you can influence from within your actual website. These factors include technical aspects (e.g. the quality of your code and site speed) and content-related aspects, like the structure of your website or the quality of the copy on your website. These are all crucial on-page SEO factors.
Off-page SEO Factors:  This factor include links from other websites, social media, and other marketing activities outside your own website. These off-page SEO factors can be rather difficult to influence. The most important of these off-page factors is the number and quality of links pointing towards your site. The more quality, relevant sites that link to your website, the higher your position in Google will be.
Social Media Marketing (SMM)
Social Media Marketing is a form of digital marketing that involves creating and sharing content on social media networks in order to achieve your marketing and branding goals. Social media marketing includes activities like posting text and image updates, videos, and other content that drives audience engagement, as well as paid social media advertising.
A social media marketing strategy will help your brand tackle its goals with a sense of purpose. We've broken down our social media marketing guide into the key steps you need to identify your goals, engage audiences and optimize your results:
Set actionable social marketing goals: Before you dive into creating a social media strategy for your brand, you need to list your objectives and goals. It's critical that you analyze the purpose of your brand's presence on social media and determine what you want your social media strategy to achieve. There are a few common but essential goals that you can achieve for your brand through social media, such as driving traffic, increasing brand awareness, building brand loyalty or credibility, and generating more sales.
Research your audience: After determining the objectives and goals of your social media strategy, identifying your target audience is a crucial step. Unless you target the right audience, your strategy may not generate the desired results. The prime reason for this is that your content needs to be tailored to the likes and interests of your target audience.
Analyze your competition: Before you build your content strategy, it's essential that you study your competitors. A thorough analysis of your competition may help you understand which tactics or content types are performing the best and which ones are not as effective. This analysis will also help you learn from the mistakes of your competitors and build your social media strategy accordingly. Also, if your competitors are not fully leveraging certain social platforms, then you can double your efforts on those social platforms.
Create and curate engaging content: Without content, you cannot create a strong social media strategy for your brand. A wide range of engaging and educational content can help you strengthen your social media presence, reach your target audience, and successfully convert them into buyers. Visual content has the power to get people's attention better than text. That's not to say textual content isn't important, but you should place more focus on visual content on social media. Put real effort into creating high-quality images, videos, info-graphics and more. These elements should be seamlessly incorporated into your social media strategy to ensure maximum engagement.
Track and measure your progress: This is the most critical step to perfect a social media marketing strategy for your brand. Regular monitoring and evaluation of your performance will help you strengthen your strategy. It will also help you formulate effective ideas to promote your brand and reach your target audience.
Content Marketing
Content Marketing is becoming increasingly important in the Digital era. It is key to your digital marketing strategy, especially at the top of the funnel stage, which is all about trying to boost brand awareness, build trust, and grow a brand's reach. Content marketing is much more than creating, distributing and sharing content (such as videos, blogs, and social media posts) that does not explicitly promote your brand but is intended to stimulate users interest.
How to Build a Content Marketing Strategy:
Define Your Content Marketing Goal
Research and Understand Your Audience
Set Up Your Blog (If You Don't Already Have One)
Update Your Current Content
Start Building an Email List and Know How You're Going to Use It
Decide Which Format of Content You Want to Produce
Use Paid Ads to Get Extra Eyes on Your Content
Pay-Per-Click (PPC)
It is an advertising model that allows sellers to advertise on an advertising platform and pay the host of that platform every time their ad is clicked. Search engines are incredibly popular advertising platforms. They allow you to display ads that are relevant to what users are searching for.
Search engine advertising is one of the most popular forms of digital marketing. It allows advertisers to bid for ad placement in a search engine's sponsored links when someone searches on a keyword that is related to their business offering. For example, if we bid on the keyword web design our ad might show up in the very top spot on the Google results page.
Email Marketing
An Email Marketing Strategy is a set of procedures that a marketer identifies and follows to achieve desired marketing goals from email advertising. This plan of actions gives the businesses a direct channel of communication with prospects and customers for brand promotion. Email marketing is said to be one of the strongest marketing channels.
Why is an effective email marketing strategy so important?
An email marketing strategy is part of your overall marketing strategy and business plan. It helps you market your products and services with the use of the email channel with the best chances for making a profit and reaching your goals.
First set your business goals and ambitions with regards to email marketing, then take these 3 steps:
Email marketing strategy: How you are going to achieve those goals.
Email marketing tactics: How you are going to achieving them in more detail. Part of the strategy.
Actions: How you going to deliver on your tactics. Even more detail, the fulfillment of your email marketing strategy
How Design Ocean Can Help
Our experienced team and management have years of excellence to deliver top-notch solutions with a bold strategy to achieve required outcomes. We understand the importance of successful digital marketing that takes your business to new levels of growth and success. Design Ocean can help your firm stand out from the competition and build a brand that drives sustained growth
Learn More